For the last few years, the U.S. construction industry has been booming like never before—but with more fully-financed projects than available builders to complete them, many construction crews are facing some tough decisions. 
In a recent survey, more than 9 in every 10 general contractors and construction managers said they had a "difficult" or "moderately difficult" time finding skilled workers for their projects. 
An unprecedented nationwide demand for builders means there's never been a better time to get your Michigan Builders License, and our 60-hour Michigan Builders Prelicense Course can help. 
This page will cover who needs a Michigan Builders License, how to get your license, what you should know about the Michigan Builders License exam, and what you'll need to do to maintain your license once you receive it.
Who Needs a Michigan Builders License?
Michigan's LARA (Licensing and Regulatory Authority) allows residential builders to charge money for their services only if they hold (or are covered by) a residential builders license. 
This covers contractors who perform any construction on a residential (or mixed residential and commercial) structure, and can include everything from improvement and repairs to demolition and replacement. 

Residential builders who hold a Michigan Builders License will still be required to subcontract any electrical, mechanical, or plumbing work to those who hold licenses in these specialized trades. But because operating without a license can result in a fine of up to $25,000 for each offense, it just makes good business sense to get your license before you begin working on any construction projects. 
The information on this page is not for current Michigan Builders License holders who are looking to renew their residential builders license—it just covers the process of obtaining your license for the first time. 
Visit our Continuing Competency page to learn more about the requirements you'll need to meet to renew your builders license.
How To Get Your Builders License in Michigan 
To get your Michigan residential builders license, you'll need to do three things: 
Complete a state-approved 60-hour Prelicense Course, like the Michigan Builders Prelicense Course, and obtain a certificate of completion from the provider; 

Download and complete the builders license application from www.michigan.gov/builders, submit this application, and pay any associated fees; and 

Pass your residential or maintenance and alteration (M&A) contractor exam.
To qualify for this state license, you'll also need to be at least 18 years old and maintain a valid Michigan driver's license. 
Non-Michigan residents must submit a Consent to Service of Process. (This form may be found under License Applications & Forms at www.michigan.gov/bcc.)
From beginning to end, this process can take anywhere from a couple of months to up to one year, so if you'd like to be on the worksite soon, you'll want to get started as soon as you can.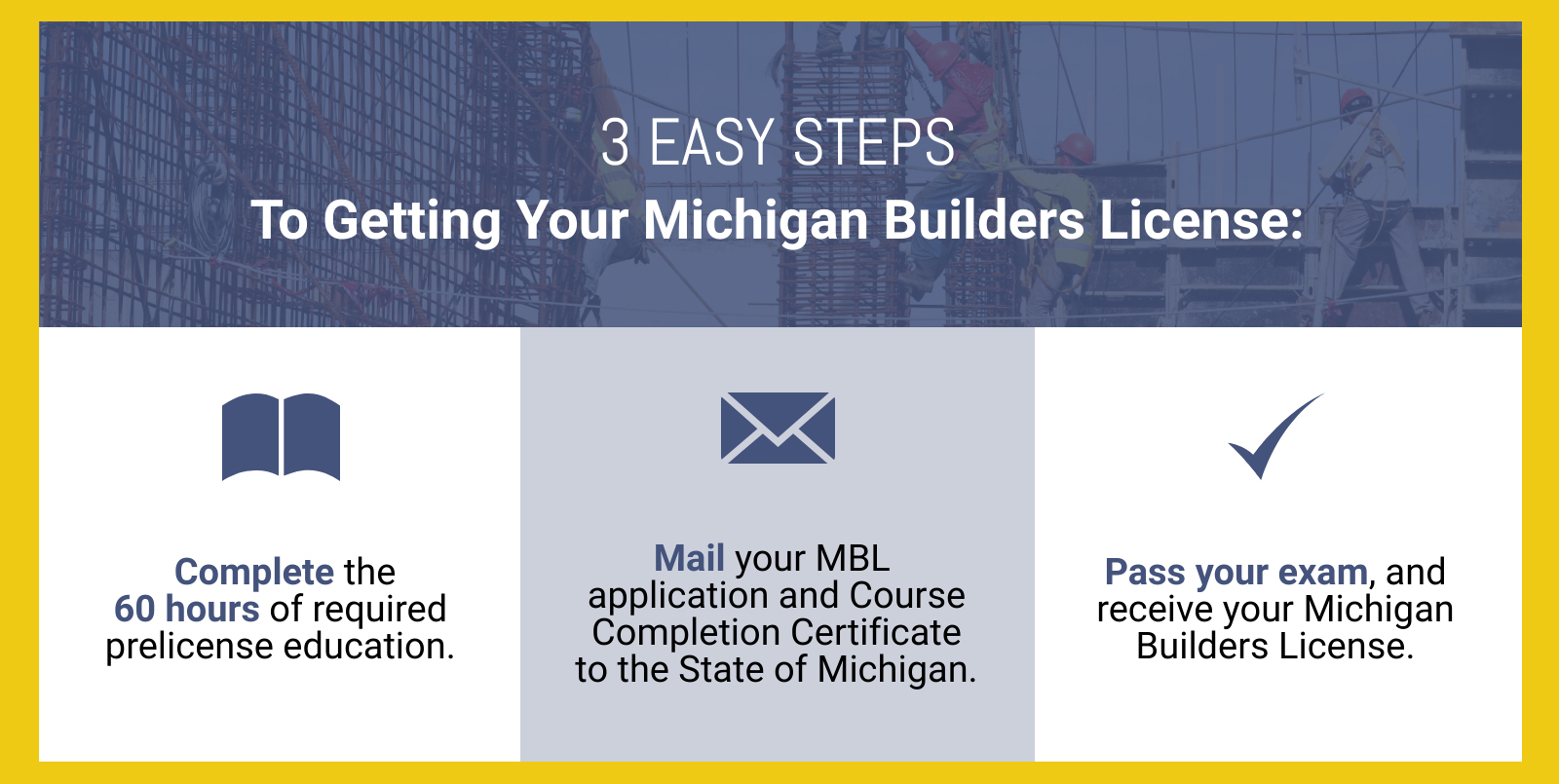 Step One: Take the 60-hour Michigan Builders Prelicense Course
Even if you think you have the knowledge to pass the builders exam without taking a prelicense course, you won't have this option—this course is a requirement for anyone who wants to sit for the Michigan Builders Exam. 
However, this prelicense course isn't just a regulatory box to check; it can provide many benefits aside from qualifying you to take the exam. It will give you the up-to-date information you'll need to pass your exam on the first try, along with information and data on the most current trends in building, recent changes to Michigan's Occupational Safety and Health Act (MIOSHA), the laws and rules that apply to builders, and changes to the Michigan Residential Code. 
Michigan Builders License offers a 60-hour Prelicense Course that's available in an ultra-convenient online format. Not only is this course available just seconds after you purchase it, but you can complete it on your own schedule, at the times that are most convenient to you. At the end of each 30-minute module, you'll be given a "knowledge check" of questions covering the topic you just viewed. This can let you know which subjects you've mastered and which ones you might want to review again before you take your licensing exam.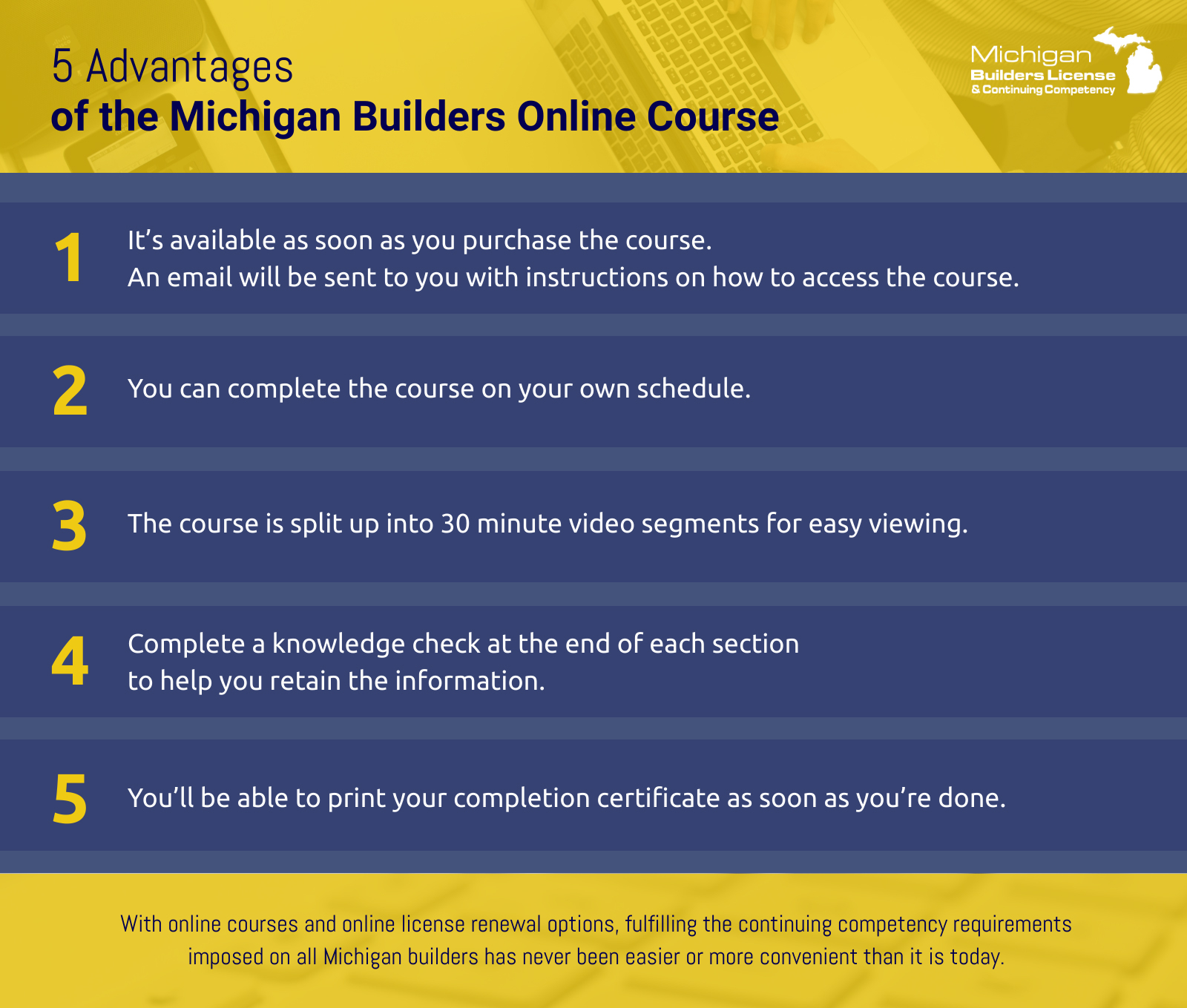 Once you've completed each module of the 60-hour Michigan Builders Prelicense Course, you'll be able to print out your certificate of completion. This certificate must be submitted to the State of Michigan (along with your builders license application) before you can register for the exam.
Step Two: Mail Your Application and Course Completion Certificate to the State of Michigan
You can find and print the Individual Residential Builder License Application at www.michigan.gov/builders. 
This application includes a $195 license fee, which may be waived for Armed Forces veterans. But if you're not eligible for a waiver, you'll need to enclose a check or money order for $195, payable to the State of Michigan. 
Once you've completed this application, mail it, your application fee, and your certificate of completion to LARA at P.O. Box 30245, Lansing, MI 48909. 
Six to eight weeks later, if your application is approved, the State of Michigan Licensing Division Builders Unit will send an "Authorization to Test" form that allows you to register for the state builders exam. 
If your application isn't approved, LARA may put it on hold and request more information or give you a detailed reason it was unable to approve the application. 
Step Three: Take Your Exam and Receive Your Michigan Builders License
After you've received your Authorization to Test from LARA, you're finally eligible to register for the Michigan Builders License Exam.
Begin by completing the Examination Registration Form that's available in the Candidate Information Bulletin and mail it to either the test administrator, PSI, at 3210 E Tropicana Las Vegas, NV 89121, or fax it to (702) 932-2666. (If you choose to mail the application, be sure to write "ATTN: Examination Registration MI RB" on the envelope so that it gets to its proper destination quickly.)
It generally takes at least four business days for PSI to process your registration, so you may want to save any questions or concerns until this processing period has passed. 
You can also opt to register for the exam online through PSI's website, but only if you're taking it for the second or subsequent time. First-time registrants can only register by mailing or faxing the application form and fee. 
After you've registered, it's time to choose your examination date.
To schedule your testing date, call PSI at (800) 733-9267. The Automated Registration System is available 24 hours per day, every day, and can help you select from the test dates available. But if you'd rather speak to a representative, just call this hotline between 7:30 a.m. and 8:00 p.m. Eastern Time.
It's a good idea to schedule your exam as soon as possible and to pick an early test date. The longer you wait, the more key information you may forget. 
Waiting more than a few months after you get your Authorization to Test form could mean having to go back and review certain prelicensing topics to catch up on what you've forgotten.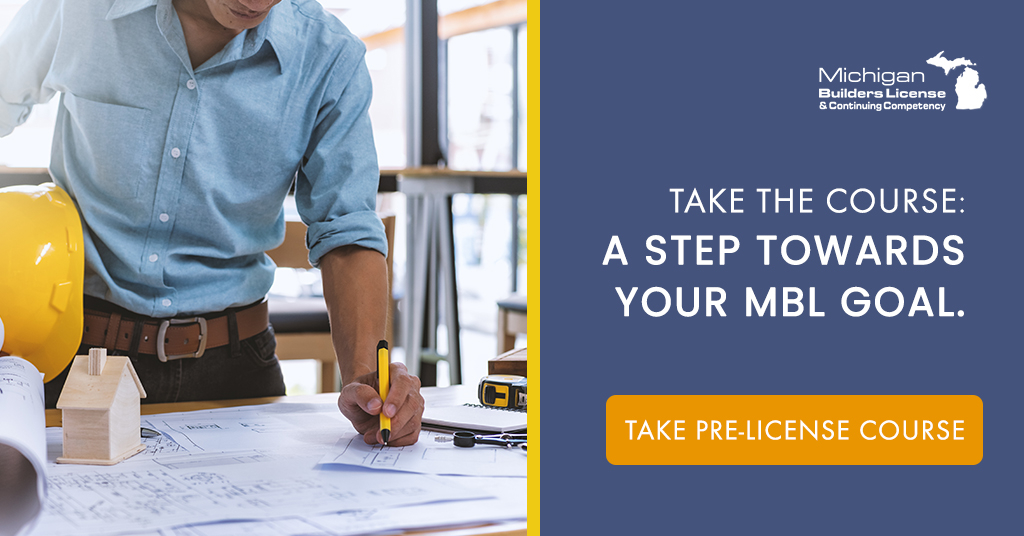 What Should You Know About The Michigan Builders License Exam?
Feeling well-prepared for your exam can boost your exam-day performance. Fortunately, by completing the 60-hour prelicense course, you'll already have a good idea of what topics will be covered and what you'll be expected to know.
Where to Take the Exam
Builders license exams are given at the following Michigan locations: 
Dearborn

Holt-Lansing

Southfield-Crossroads

Southfield-Lahser

Grand Rapids

Gaylord

Marquette
The 60-hour prelicense course available through Michigan Builders License includes the Candidate Information Bulletin (which outlines the topics covered on the General Contractors Exam), complete instructions for taking the Michigan construction license exam, and directions to each of the seven available testing centers.
What to Bring on Exam Day
Knowing you have everything you need on exam day can go a long way toward calming any pre-exam jitters. Generally, you'll want to arrive at least 30 minutes before your scheduled testing time to accommodate for any traffic or other unexpected difficulties you might face. 
Once you arrive at the exam center, you'll need to present two (2) valid forms of identification, one of which (like your driver's license) must have a photograph and your signature. (This requirement helps eliminate the risk of having a "stand-in" test-taker.) 
The name on your exam application must exactly match the name on your photo ID at check-in, so if you tend to go by your middle name or a nickname, be sure you've filled out the application correctly. (If you filled out the application using a name that's not on your photo ID, contact PSI as soon as you can to amend your application before test day.)
And because some test questions may require you to work with measurements, you should bring a non-programmable calculator. You won't be allowed to use your cell phone or a programmable calculator.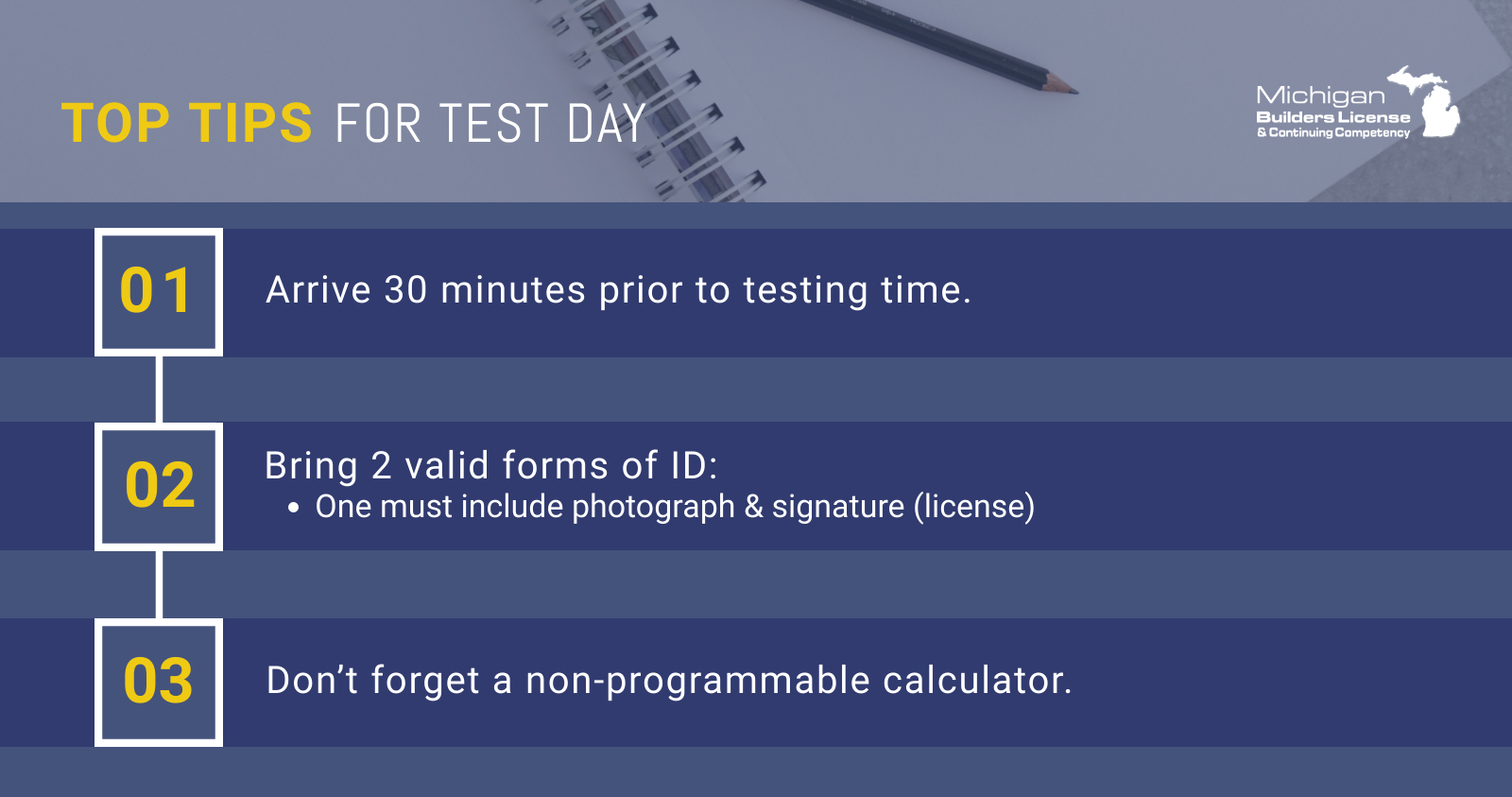 What the Exam Will Cover
The Michigan Builders exam has two parts: the Business and Law exam and the Residential Builder exam. 
The Business and Law Exam has 50 questions, at least 36 of which must be answered correctly to pass (for a passing score of 72 percent). All test-takers will be given 75 minutes to complete the exam, which means you should aim to spend an average of no more than 90 seconds on each question.
The Residential Builder Exam has 110 questions, 80 of which must be answered correctly to pass (for a passing score of 73 percent). You'll be given three hours, or 180 minutes, to complete this exam. At 110 questions, this means you'll again want to spend an average of no more than 90 seconds on each question. 
Because of these time constraints, many test-takers find it more efficient to simply skip over (and put a star by) any questions they don't quickly know the answer to. By getting all the way through the test before returning to the more stubborn questions that could take more time to answer, test-takers will have a better chance of reaching the minimum passing score. After all, even the hardest question on this test is worth exactly the same number of points as the easiest question, so it's not worth spending so much time on these hard questions that you don't reach the end of the test.
 

How Do You Renew Your Michigan Builders License? 

Once you've gotten your license, you may think you can rest easy. But it's not that simple: regardless of how long you've held your Michigan Builders License, you'll need to complete a certain number of state-approved continuing competency hours to renew your license and avoid fines and penalties.

Those who have been licensed six years or longer will need to complete three (3) hours of continuing competency each year, while those who have been licensed for fewer than six years will need to complete 21 hours. Michigan Builders License offers a number of state-approved courses to complete the requirement.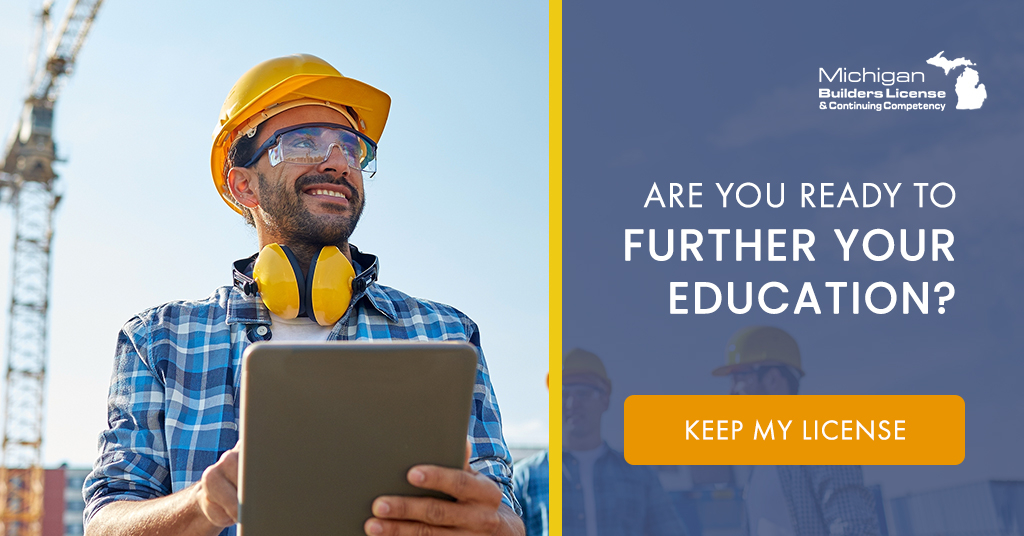 Get Your Michigan Builders License The Right Way
Even in Michigan, where long winters have often made construction a seasonal industry, licensed builders now have far more work than they can comfortably handle. Join the ranks of these builders and take this opportunity to increase your income by making the first step toward getting your builders license today. 
Let Michigan Builders License help. Our 60-hour prelicense course fulfills all state requirements, can be completed on your own schedule, and provides you with the information you need to pass your licensing exam the first time—all in a detailed and easy-to-digest format.