In order to protect Michigan's workforce and workplaces, the Michigan Occupational Safety and Health Administration (MIOSHA) has been working with businesses across the state on how to prevent the spread of COVID-19.
Following several inspections, MIOSHA issued the first round of COVID-19 "general duty" citations in August 2020. MIOSHA expects employers to have a COVID-19 response plan to protect workers that follows CDC Interim Guidance for Businesses and Employers. It is also expected that employers share this plan with their workers in languages they understand. Small construction businesses are strongly advised to review the guidelines.
In August, MIOSHA even fined two contractors in the construction industry, with fines ranging between $2K-6K. So, they are pretty serious about enforcing workplace regulations. We know you still have to work and take care of your families, so that is why we have put this piece together on ways that you can comply with MIOSHA guidelines. Please note that these safety guidelines reflect CDC guidance as of 10/12/2020.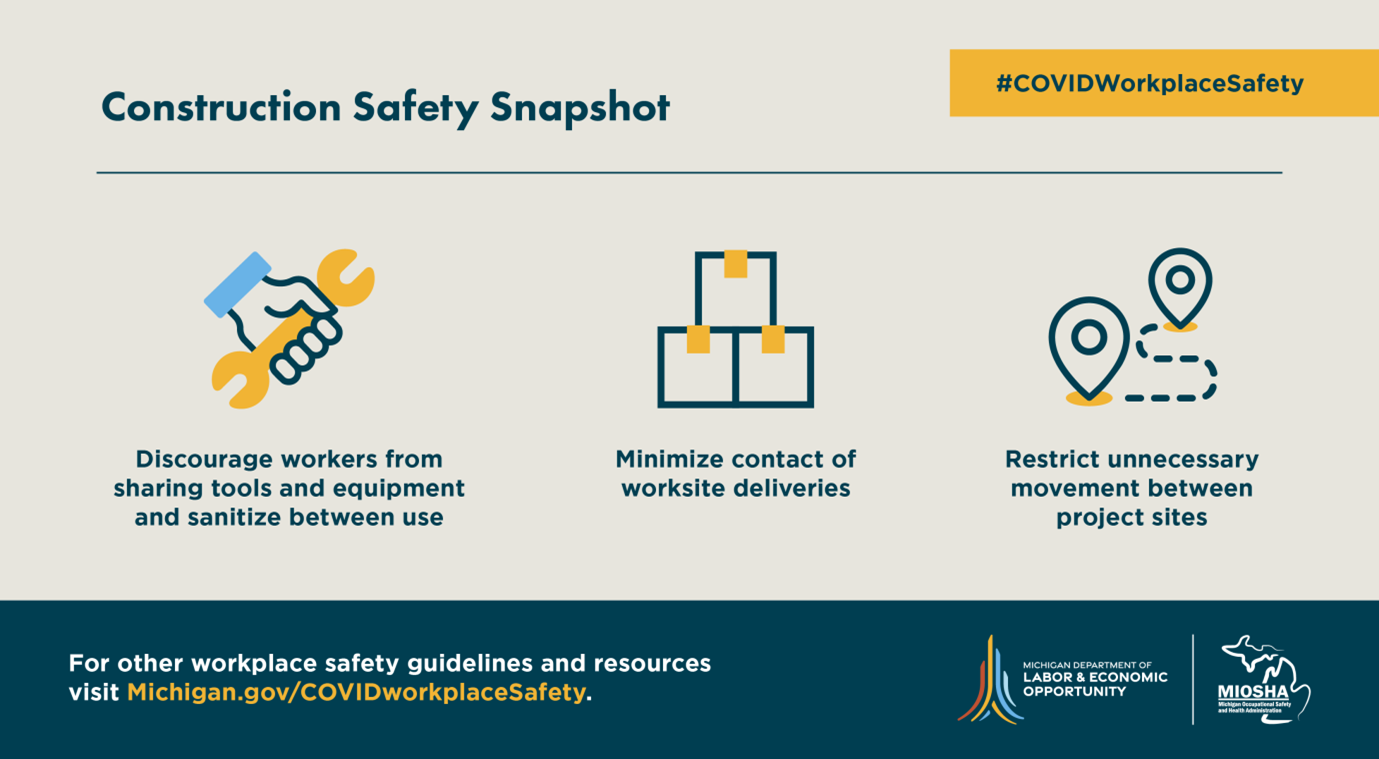 Image supplied : Michigan.Gov/COVIDworkplaceSafety.
Appoint a Health and Safety Officer
In order to make this process as frictionless as possible, the first thing you could do is to designate a health and safety officer who will be responsible for responding to COVID-19 concerns. This person does not have to be a professional qualified health officer. It can be a member of your workforce who is good with documentation and operations. Together, you can work through the checklist, and documentation to ensure you collaborate and stay updated on federal and local law.
Your workers should also know who this person is and how to contact them. This individual will be in charge of what you can call the "Coronavirus Taskforce" at your company. He/she will coordinate tests, protective equipment, and information dissemination for all employees.  They are also responsible for updating the team on CDC and MIOSHA guidelines.  Together with management, they will come up with the Covid-19 response plan to manage the transition back to work in a safe manner for all.
Conduct a Hazard Assessment and Get PPE for Your Staff
Once you have Health and Safety Officer, you can collaborate to conduct a hazard assessment to determine if hazards are present, or are likely to be present, for which workers may need personal protective equipment (PPE). CDC and OSHA have recommended PPE for some types of work activities when engineering and administrative controls cannot be implemented or are not fully protective. PPE training will fall under your domain as well. Employers are required to determine, select, provide, and train on correct PPE use and application for their workers' specific job duties. This will also reduce personal contact upon delivery of materials to the worksite.
Put Up Signage on COVID-19 Information in as Many Places as You Can
Even though the news cycle has battered everyone down emotionally on COVID-19, as the employer you are lawfully expected to provide employees with accurate information (in a language they understand) about COVID-19, how it spreads, and risk of exposure. The Safety Officer has to also ensure that posters are in visible areas that that encourage people to stay home when they are sick, what cough and sneeze etiquette is, and signs and symptoms of COVID-19.
This implication means that if your employees speak three different languages then it is best to share ads that they can also understand. Information refers to the basic facts of the virus and how to stay safe. This can include short seminars to share on the protective measures that your organization has put in place.
Provide Sanitizers, Lots of Water, and Disinfect Worksites Regularly
Practicing proper hand hygiene is also an important infection control measure as the virus cannot survive once soap is applied. With appropriate hand hygiene, gloves become almost negligible. As we all know by now, wash for at least 60 seconds or use an alcohol-based hand sanitizer containing at least 60% alcohol.
MIOSHA also wants hygiene signs in visible places that everyone can see. It is also advised to install temporary or mobile hand washing stations, making sure there is an adequate supply of water, soap, and single-use paper towels. In order to make water easily accessible, it will be necessary to provide a large (5+ gallon) bucket daily with a lid and tap that can be used to provide water for hand washing. Used water must be disposed of safely in accordance with local laws and environmental regulations. Disinfection of frequently touched surfaces will need to occur before, during, and after every shift. MIOSHA expects you to disinfect with alcohol solutions with at least 70% alcohol, or those that are appropriate for the surface.
Screen for the Virus Daily
In order to guarantee maximum safety based on CDC guidelines, daily screening with thermometers will be necessary. You will need to create a dedicated worksite entry point at every worksite, if possible, for daily screening.
How to Handle High Congestion Areas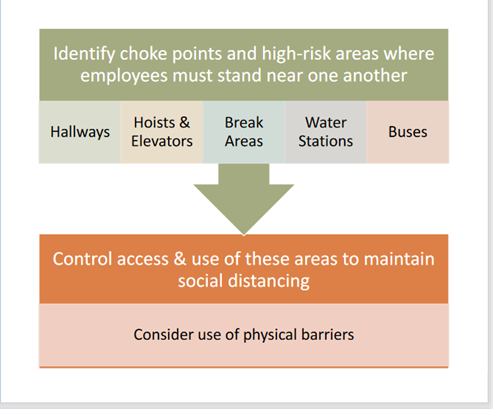 Image supplied by MIOSHA, courtesy of Michigan Government, Workplace Regulations.
Enforce Social Distancing
Employers will need to come up with ways to minimize contact at worksites between employees. Worksites are generally close-knit; MIOSHA therefore urges you to develop and implement social distancing guidance that maintain a distance of at least 6 feet between workers when possible.
The areas that MIOSHA considers "high-risk" are listed above as hallways, water stations, and buses. The suggested route of combating this is to modify work schedules so as to stagger work, provide alternating workdays or extra shifts to reduce the total number of workers on a job site at any given time. Communication with clients on altered timelines related to building will therefore be necessary so that you keep them informed of how you are complying with guidelines. Communication with your workers will be necessary, too, as changes in work hours may affect home-lives. Be sure to connect and do the best for your employees while maintaining safety.
Less In-Person Meetings, and Wear a Mask in Public Settings
Sometimes different teams work on multiple sites; this will have to be paused for the foreseeable future. This also includes ride-sharing and grouping teams together. Avoid in-person meetings and go for virtual options as much as possible. The CDC continues to recommend wearing a face mask  in public settings.
Avoid Sharing Toolboxes and Disinfect Before and After Every Shift
One of the more common aspects of building on a site together is sharing toolboxes. MIOSHA advises that cleaning and disinfecting frequently touched surfaces such as shared tools, machines, vehicles and other equipment, handrails, ladders, doorknobs, and portable toilets can slow transmission. This should occur at the beginning and end of the shift, and if anyone uses your vehicle, tools, or workstation. It sounds tough, but we are living in unprecedented times. It is better to err on the side of caution. If possible, it is best to limit tool sharing completely.
What If Employees Get Sick?
COVID-19 has proven to be dangerous in the asymptomatic stage. Some people get the virus and only experience mild symptoms. This can lead them to believe they are okay. As the employer you are encouraged to advise sick employees who have been diagnosed to stay away from work until the criteria to discontinue home isolation has been met.
Additionally, implement flexible sick leave and supportive policies and practices. Consider drafting non-punitive emergency sick leave policies if sick leave is not offered to some or all employees. Employers should not require a positive COVID-19 test result or a healthcare provider's note for employees who are sick to validate their illness, qualify for sick leave, or to return to work. Moreover, do your best to provide information on whom to contact if employees become sick. If an employee is confirmed to have COVID-19 infection, employers should inform fellow employees of their possible exposure to COVID-19 in the workplace but maintain confidentiality as required by the Americans with Disabilities Act (ADA).
Where Can I Get More Information?
If you got to the end of this article and are feeling overwhelmed by the amount of information, you can watch this short video on General Workplace Guidelines and Safety Precautions. You can also stay informed by referring to the sources below for more information on worker exposures to COVID-19:
Subscribe here to receive alerts on guidelines as they come in: https://public.govdelivery.com/accounts/MILEO/subscriber/new?topic_id=MILEO_395