Continuing Competency Requirements & Steps For Completion 
With its long winters and relatively short construction season, Michigan's residential building industry is highly competitive, and Michigan builders are often asked to schedule an entire year's worth of work into just a few short months. 
Because of this, Michigan residential builders license-holders who fail to complete their continuing competency requirements may begin the construction season unable to schedule projects until they've finished a qualifying continuing education course. 
And just like other professionals, residential builders can benefit from staying up-to-date about changes in the building code and associated safety regulations.
This article will provide you with everything you need to know about the continuing competency requirements that must be achieved to renew a residential Michigan Builders License. 
What Is Continuing Competency? 
Michigan's residential construction industry is subject to some strict state and federal building and safety codes. As a result, the state of Michigan requires every individual who wishes to operate as a builder to complete 60 hours of pre-license education before it issues a builders license. 
License-holders then must complete continuing education courses, known as "continuing competency," before their license can be renewed. Operating without a license (or with a lapsed license) can subject builders to civil fines, penalties, and injunctions. 
And, contrary to popular belief, builders who have been licensed for more than 10 years are not "grandfathered in" to a continuing-education-free career; while these builders don't need to complete as many continuing competency hours as the newly licensed, all Michigan builders have some continuing competency obligations.

Notification of Requirement
The state of Michigan no longer sends out paper renewal forms, renewals must be done online and your continuing competency must be complete prior to renewing. 
On or around 3/1/20 there will be a postcard sent to you to notify you the license portal is open. You can also directly check the license portal yourself here You will have to create a new account if you have not previously done so. If you sign up for continuing competency courses all include a short video to walk you through the new process. 
 License-holders will then be required to complete either three or 21 hours of state-approved continuing competency courses (depending on how long the license-holder has been licensed) and obtain a certificate of completion before the license can be renewed.
But while this six-week renewal notice can be a good reminder for those who need it, there's nothing to prevent Michigan builders from completing their continuing competency courses early. 
Take advantage of product promotions to get your required continuing competency out of the way.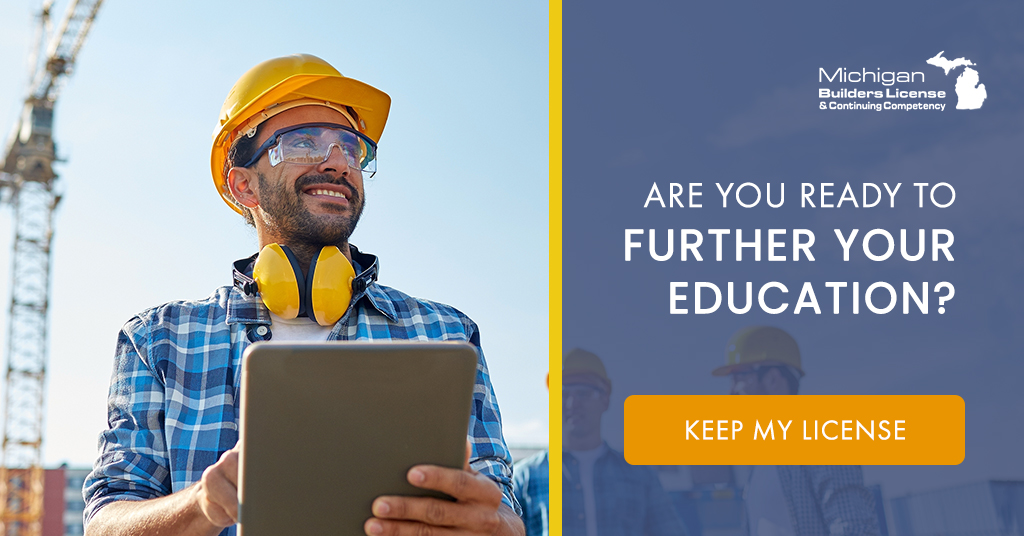 Why Is Continuing Competency Required?
The Michigan LARA (Licensing and Regulatory Authority) governs the enforcement and regulation of building and construction codes, alcohol and tobacco sales, and professional licensing. 
Although LARA primarily focuses on the enforcement of Michigan-specific regulations, it also assists in enforcing federal regulations that may be more or less strict than state requirements.
By requiring Michigan residential builders to complete at least three hours of continuing competency courses, LARA can ensure that builders license-holders are up-to-date on key rules and regulations that may have changed since they first obtained their license.
For example, amendments to the Americans with Disability Act (ADA) or its Michigan equivalent can change the minimum hallway or doorway sizes for homes or the number of inches a stair can "rise." Builders who aren't aware of these changes could continue constructing non-conforming homes for the foreseeable future, increasing both the cost of code enforcement and the cost to the homeowner.
Similarly, changes in the Occupational Safety and Health Act (OSHA) or MIOSHA are nearly constant as technology creates safer ways to work. 
Ignorance of these changes can subject a builder to major civil liability if they fail to adapt to new safety regulations and a worker is injured or killed as a result. 
Requirements for Completion
Completing your continuing competency requirements doesn't have to be a difficult or complicated process. 
Those who have held their Michigan builders license since before January 1, 2009, will only need to complete 3 hours of continuing education to renew this license.
However, those whose builders license was issued after January 1, 2009 will need 21 hours of continuing education for the first 6 years or 2 license cycles to maintain their license. After the 6 years, the requirement then goes to 3 hours.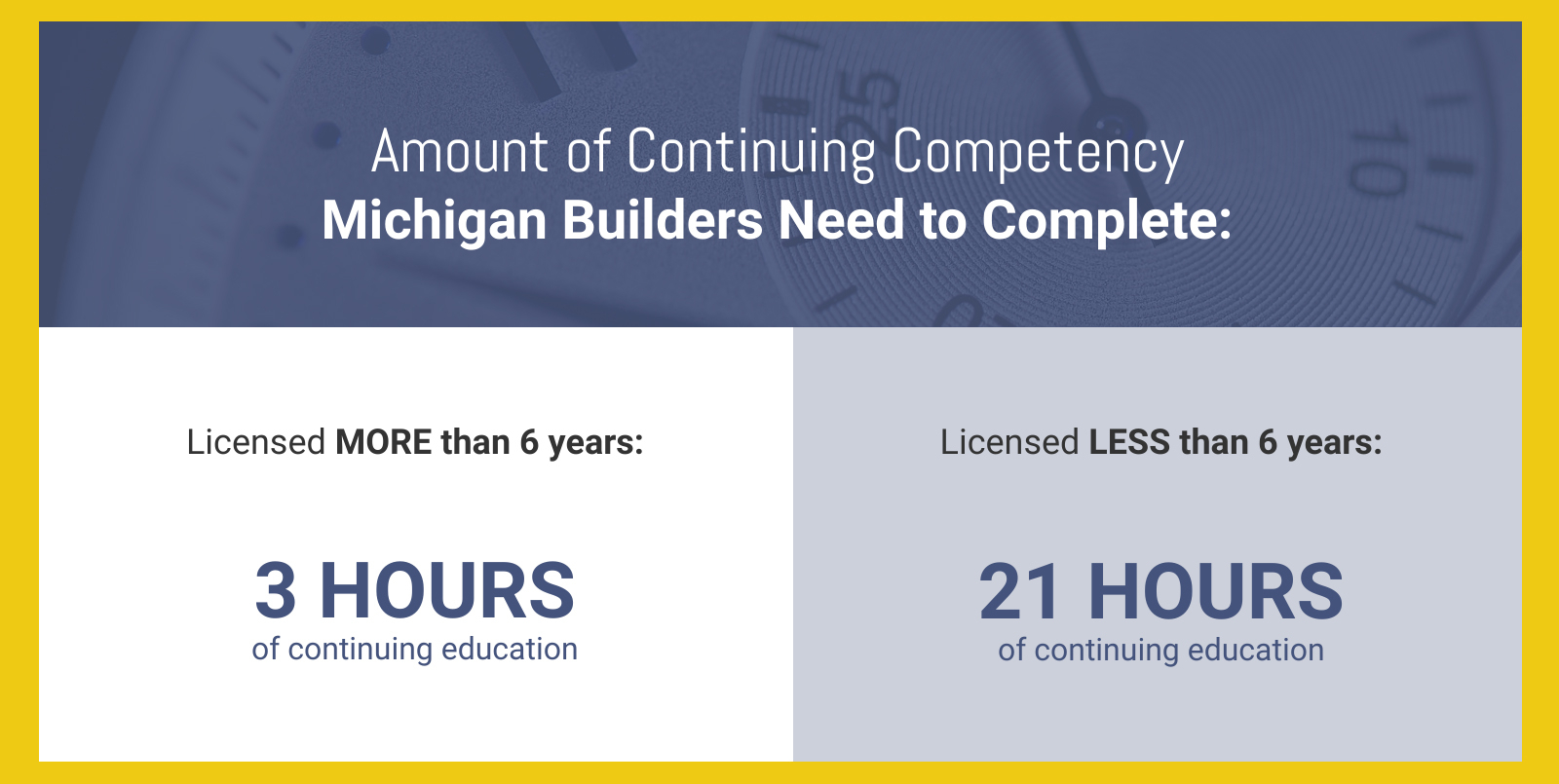 All Michigan-approved continuing competency education courses must include a few key topics: building codes and laws, safety, and business management. 
Three-hour courses generally include one hour devoted to each topic, while the 21-hour courses will also cover topics like the ADA, blueprints, and the International Energy Conservation Code. 
What Happens Next?
After a license-holder has completed their required continuing competency course, the course provider will issue a certificate of completion. 
The license-holder doesn't need to provide this certificate to the State Board but should keep it on hand in the event of an audit. Instead, when applying for license renewal, the license-holder will be asked a series of questions to affirm that they've complied with the requirements.
Michigan law also requires all residential builders license-holders to have an up-to-date copy of the Michigan Residential Code book—currently, the most recent version is from 2015.
What's Covered in the Continuing Competency Course?
There are quite a few different continuing competency courses available; although no two products are quite the same, all state-approved courses will cover the following topics.
Michigan Building Code
From the number of exits a home must have to mixed-use and occupancy requirements to energy efficiency, Michigan's building code is incredibly comprehensive and sometimes complex. 
Although architects and others who are involved in the drafting process are generally familiar with Code requirements, ultimately, Code compliance comes down to the builder (and the dozens of on-the-spot decisions a builder must make during the course of construction).
If a structure is deemed non-compliant with the Code, the builder may be required to remove or destroy the non-compliant portion. Not only is this expensive, but it is also time-consuming. 
By making just one Code mistake early in the construction season, a builder can miss out on work opportunities or run behind schedule on already-booked projects.
Because not even the most experienced builder has an encyclopedic knowledge of Michigan's Residential Code, knowing how to search the Code and what types of decisions may be dictated by the Code is far more important than memorizing specific requirements.
By focusing just one hour on the Michigan Residential Code, continuing competency courses can hit the highlights and most recent changes without bogging participants down in nitty-gritty details they may quickly forget.
Safety (OSHA and MIOSHA)
Despite recent safety advances and increasingly stringent safety regulations, the construction industry remains a relatively dangerous one. 
As recently as 2014, OSHA estimated that 20 percent of all on-the-job fatalities occurred at a construction site. Most of these injuries fall into one of the "Fatal Four" categories: falls, electrocutions, being struck by an object, or being trapped in or "squeezed between" two objects. 
By focusing on safety measures related to the Fatal Four, builders can significantly reduce the risk that they (or anyone on their crew) will be injured or killed as a result of unsafe working conditions. Michigan's OSHA imposes additional and complementary requirements designed to ensure construction-site safety.
Business Law Topics
With increasing specialization in the building industry, just about every residential construction project draws in subcontractors like drywallers, plumbers, electricians, and flooring installers. While this can make projects more efficient by assigning tasks to those who can quickly complete them, adding more people to the process can also add more complications.
For example, if you're acting as a general contractor and your paving subcontractor quits the project with half the driveway incomplete, what options do you have to avoid delaying the project or paying out-of-pocket to complete it?
If you're performing a custom build for a homeowner who is dissatisfied with certain aspects of the final project or who wants last-minute changes that will significantly increase the cost of the build, are you obligated to make these changes? Can you sue the homeowner for withholding the final project payment?
Because even the simplest residential construction project can implicate these types of issues, builders need to be familiar with construction liens and other business principles. 
How To Get Started 
If you're ready to complete your continuing competency requirements, it's easy to get started.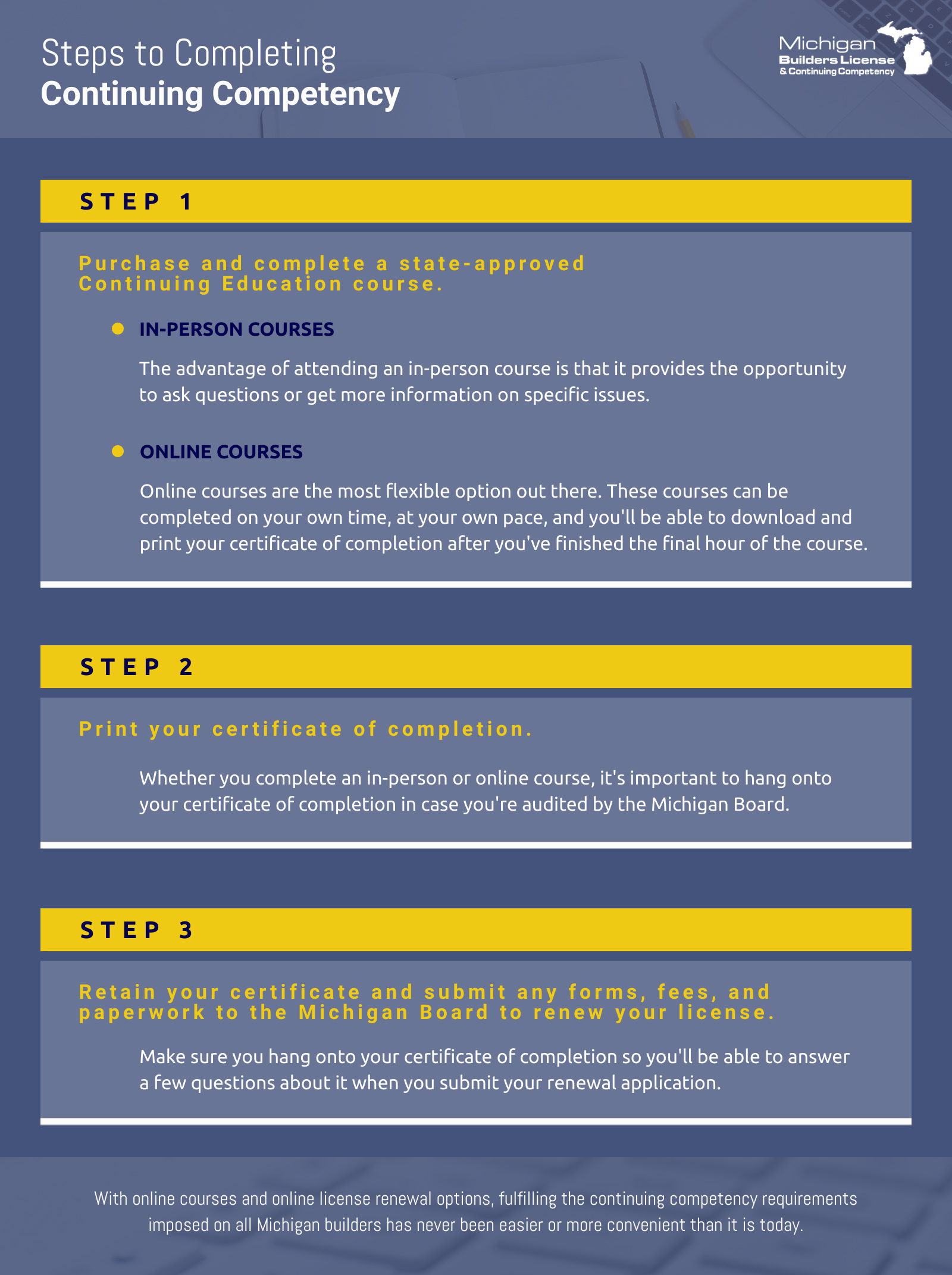 1. Purchase and complete a state-approved Continuing Education course. 
Michigan Builders License offers several state-approved continuing competency courses, both in-person and online. 
The advantage of attending an in-person course is that it provides the opportunity to ask questions or get more information on specific issues. 
Michigan Builders License offers live continuing competency courses throughout the year, perfect for those with busy schedules or who don't have the patience to complete these courses online.
Online courses are the most flexible option out there. These courses can be completed on your own time, at your own pace, and you'll be able to download and print your certificate of completion after you've finished the final hour of the course.
If you don't have three (or 21) hours to set aside to complete your continuing competency requirements, an online course can let you break this down into much more manageable chunks. 
This is especially handy when your license renewal date comes up when you're in the midst of a major project and don't have the mental energy for anything else at the end of the day.
What Courses are Available?
Michigan Builders License produces several high-quality online courses designed for professionals at every level.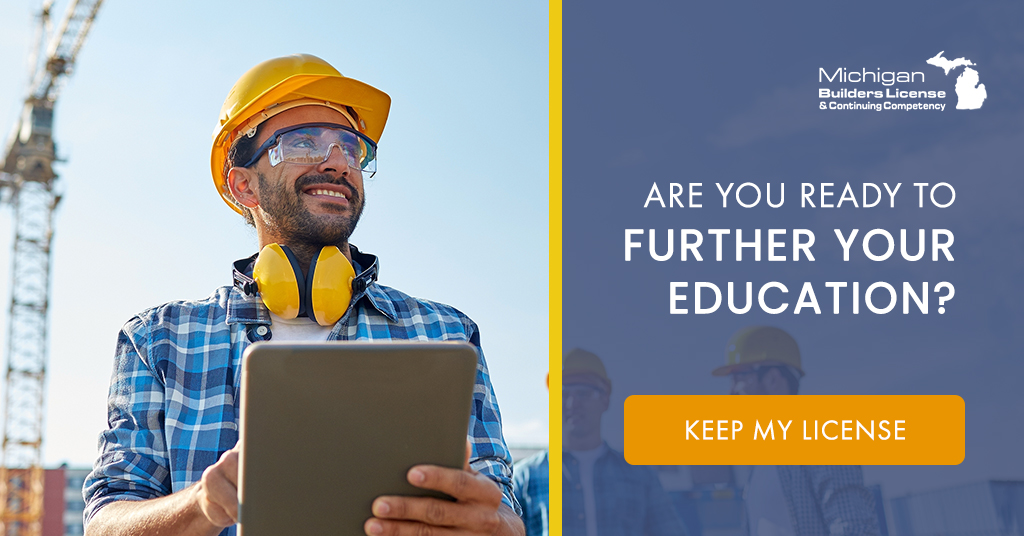 For those interested in the 3 hour course:
The Just the Basics package, as the name implies, includes just the basics: three hours of safety, Building Code, and business law topics.
The For the Pro package includes the same three hours of continuing education as Just the Basics, plus more than 100 sample contracts and additional sessions on bookkeeping and tax strategies for contractors.
The Business Builder package includes all the continuing education courses and bonus features offered in the previous two packages, plus a multitude of other offerings. This includes titles like "How to Grow Your Construction Business," "Construction Lien Act," "Contractor Website and Marketing Design 101," sample employee handbooks, and much more. 
Meanwhile, those who want to purchase a 21-hour course have even more options available: select from among our all-in-one courses or build your own based on your interests, needs, and business specifications.
Be sure that any of the courses you're considering are approved by the State Board. For example, a three-hour continuing competency course that doesn't include any instruction on MIOSHA requirements may not fulfill the state's requirements; without taking an additional MIOSHA-specific course, you could be prevented from renewing your license, even if you've technically completed three hours of continuing education. 
All of the courses offered by Michigan Builders License are guaranteed to fulfill the state's continuing competency requirements.  
2. Print your certificate of completion.
Whether you complete an in-person or online course, it's important to hang onto your certificate of completion in case you're audited by the Michigan Board. 
This certificate of completion will show the Board that you've completed all applicable license renewal requirements.
3. Retain your certificate and submit any forms, fees, and paperwork to the Michigan Board to renew your license.
In the past, Michigan builders license-holders had to mail their certificate of completion, along with other documents, to the Board before a license renewal could be issued. 
But today, this process can largely be completed online. This means that you can hang onto your certificate of completion and just answer a few questions about it when you submit your renewal application.
In Closing
With online courses and online license renewal options, fulfilling the continuing competency requirements imposed on all Michigan builders has never been easier or more convenient than it is today. 
Even if you've waited until the last minute to renew your license, it's not too late to get started.