5 Ways to Differentiate Your Contracting Business

MichiganBuildersLicense.com CEO Derek Woryn recently appeared on the Michigan Contractors Show with host Tom Bartholomew and shared some words of wisdom for those interested in becoming licensed contractors in the state of Michigan.
Listen to "Episode 12 - featuring Michigan Builders License with Derek Woryn" on Spreaker.
MichiganBuildersLicense.com has been the #1 provider of pre-license and continuing education for contractors in the state of Michigan since 1982.
Back in the 80s and 90s, the state of Michigan only required that contractors pass an exam in order to earn their licenses. But passing an exam does not mean that contractors can run a successful business, and the state was inundated with complaints about unreliable and unqualified contractors.
These complaints led to the current 60-hour class requirement prior to passing the state exam, which includes education on financial aspects, building codes and regulations, and other pertinent aspects of running a successful company once you've received your license.
MichiganBuildersLicense.com has continued to develop and refine their 60-hour course to make it as relevant and practical as possible. Lead instructor Sid Woryn has trained more contractors in the state of Michigan than anyone else!
The recent changes due to COVID protocols being put in place means that you can now complete your 60-hour course requirement online - at your own pace and on whatever schedule suits you.
Not only is your license more accessible than ever due to the new online course option, but there also has never been a better time to become a contractor! Housing is at an all-time shortage, and contractors are in a unique position of being able to name their own price right now. The industry is booming - in both new builds and renovations - and it can be difficult to find reliable and qualified contractors.
(Give Your Clients Easy Financing Options That Make You The Go-To Builder For Bigger Renovation Projects. Register now to become a builder who is always bringing your clients MORE options for BIGGER projects, so you can make BIGGER sales. Click here to learn more.)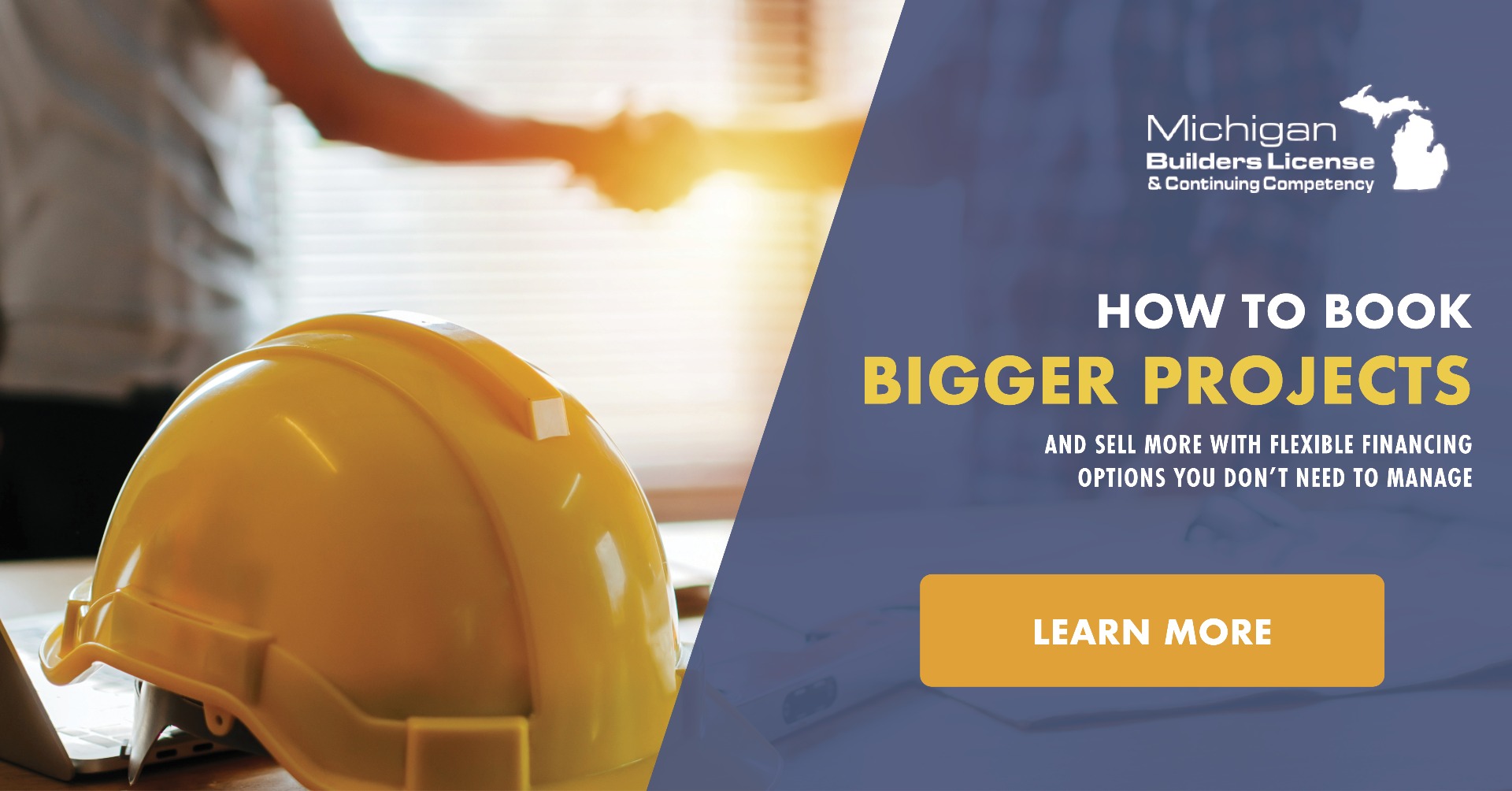 With so many reasons for people to enter the market of licensed contractors, it's important to differentiate yourself from competitors - and Derek gives us 5 ways to do so.
1. Pre-Order & Stockpile Supplies
With a limited supply chain and shortages coming, it's important that you pre-order and stockpile supplies when you can. You don't want to delay jobs due to the availability of materials; chances are that your client will find another company who can start sooner.
Another reason to stock up is that price never goes down when it comes to materials, so go ahead and purchase them now.
2. Make Use of Digital Marketing
Successful email campaigns (ones that get past spam filters), Google Adwords campaigns, and Facebook advertising that is managed by an expert can make all the difference in bringing attention to your business.
A modern, clean, user-friendly website that looks good on all mobile devices is something that most busy contractors don't have a lot of time to worry about but can be critical in generating leads.
MichiganBuildersLicense.com employs an in-house marketing team that contractors can partner with to get their message out in a way that is professional!
Partnering with a digital marketing company can get your website in front of interested parties by using strategies like Retargeting. Retargeting costs very little but can give a big return - it remarkets you for 30 days to people who have already been on your site.
3. Provide Outrageously Good Service
Being accessible and providing excellent customer service goes so far with clients - but can often be overlooked. As Derek points out, a potential client who fills out your "Contact Us" form on your website should be receiving a response within 5 minutes. This simple point of contact with a red-hot lead can increase your chances of getting the job by 90%!
And yet, many "Contact Us" forms go unanswered for several days- if they reply at all. A prompt response helps to show the legitimacy of your company.
4. Select a Specialized Marketing Firm
When it comes time to partner with a marketing firm, be picky, as it will pay off! You really want a marketing company that specializes in your niche so that you don't end up with a jack of all trades, a master of none. It is worth the money so that you attract your ideal clients.
Marketing services for contractors are no longer an optional aspect of the business. You need a marketing firm that will help you with website design, content, a full marketing plan, setting up ads, and custom services.
5. Continue Your Education
Of course, you need to pass your state exam in order to become a licensed contractor in the state of Michigan - but the exam is written by bureaucrats and academics! The exam has very little to do with working in the field. That's why you need the 60-hour class to learn about how to run a successful contracting business. On top of that, you must complete 3 hours of continuing education each year, as well as learn OSHA regulations, code changes, and business law changes in the state of Michigan.
While this may seem like a lot, MichiganBuildersLicense.com is your one-stop-shop for all of your pre-license and post-license requirements.
Now, MichiganBuildersLicense.com is going above and beyond by educating contractors on how to make more money, as well as how to protect themselves from liability that will cost them money. You can learn how to write a rock-solid contract right here at MichiganBuildersLicense.com.
More than an education, you need a plan and a roadmap to success. You need to learn industry trends and how to manage a career. This industry already has so many challenges - job site injuries, lawsuits, and more - that you need to take every opportunity to differentiate yourself.
Call us today and find out how.
If you're interested in taking your Continuing Competency or Pre-Licensing courses with Sid Woryn or the rest of the Michigan Builders License team, head over here and find the course and schedule that best fits your needs!